---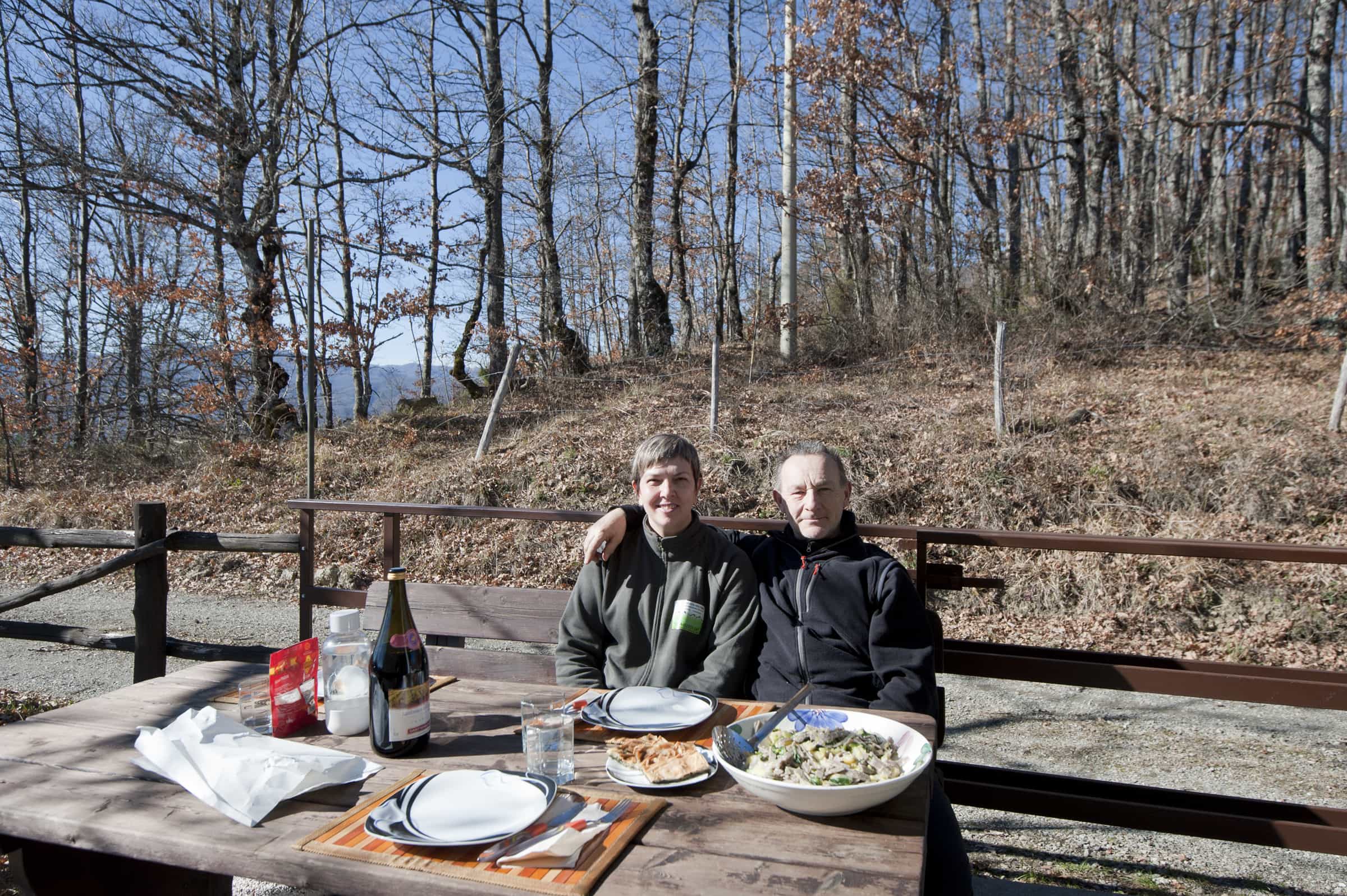 We are husband and wife, Giorgio and Valeria Genovese, directly transplanted in 2014 from the hinterland of Milan, stressful and chaotic, in Valtaro, (valley of the Taro River), in Emilia-Romagna, province of Parma (north of Tuscany and Liguria) … in short, we immersed ourselves in almost untouched nature. We dropped family, respective jobs as employees and dwelling to change totally life looking for a bit 'of "good way of living.".
---
The passion of both for outdoor sports but especially the thirty years of love of Giorgio for the 2 wheels (long-time enduro rider first and then on a mountainbike) has been of inspiration to create something unique and innovative for these area : a tourist accommodation mainly dedicated to bikers and motorcyclist, especially for those who prefer:
1) ALL-MOUNTAIN mountainbike guided excursions
2) guided tours with enduro motorcycles

You will be immersed in nature, far from everything. The sensation is like being at home with the pleasure of falling asleep in the evening and wake up in the morning with the sounds of the forest and mountain.
The cuisine is genuine (not local), trying to propose a type of tourism respectful of the environment, economy and communities, especially locals.
You can spend time relaxing or choosing activities that will bring you into contact with nature: long naturalistic walks and/or to discover the history and traditions of the mountain, guided mountain bike tours or enduro motorcycles, horse riding and, snow permitting, excursions with snowshoes and/or cross-country skis ... .and for those who have a great adventurous spirit, there is the possibility to practice sleddog

Additional services we offer:
Siamo piccoli e "giovani" del mestiere ma offriamo un servizio, secondo noi, completo. Sino ad oggi, non esiste qualcosa di simile in tutta la Valle del Taro e del Ceno. Giorgio è Guida dell'Accademia Nazionale di Mountain Bike ed è disponibile per: servizi di accompagnamento per escursioni in Mountain Bike. Più di trent'anni di esperienza e conoscenza approfondita dei percorsi e sentieri della Valtaro. Si propongono percorsi pedalati di diversa difficoltà per scoprire i paesaggi della Valle; Stages di approfondimento dedicati a chi vuol migliorare le proprie conoscenze base, necessarie per affrontare al meglio la pratica della MTB, restando con le "ruote per terra"….
---
Additional services we offer: